ASBG Welcome

ASBG is a business representative body helping organisations deal with the substantial and rapidly changing environmental, and greenhouse laws and helping them to become more sustainable.
Below is are our current set of seminars and conferences to assist you in being better at managing environmental issues at  your site. We also run many other member events and more details are available on our website.
Contaminated Land Conference - 28 May 2015

ASBG's Contaminated Land conference is being run on the 28 May 2015 in Sydney covering the latest regulatory and policy perspective on contaminated land. This has been prepared for landowners and practitioners. Keep up with the many regulatory changes and technical aspects of contaminated land management. See more...
NSW - Dangerous Goods and GHS Workshop - 18 June 2015
This is a practical morning workshop designed to get supervisors and managers up to speed on classification, labelling, transport, storage and handling of dangerous goods. It also incorporates the new GHS classification and labelling required by the new Workplace Health and Safety Regulation to be in use by 2017. It also covers application of Australian Standards on basic design issues for DG stores. See more...
Environmental Protection Licensing Seminar & Workshop - 25 June 2015

A morning seminar followed by an afternoon workshop on Environmental Protection Licences (EPL) how to comply with them and understand them better.  Compliance with EPL conditions are critical for holders as major fines and additional costly studies and business changes can result.  Find out how to manage your EPL with regulatory, legal and business based environmental experts.  See more...
NSW - PIRMP Template Package
ASBG has prepared a PIRMP Template Package with 3 hours consulting to assist NSW environment managers meet their new obligations  and save time.  See more...
ASBG's PIRMP Training Template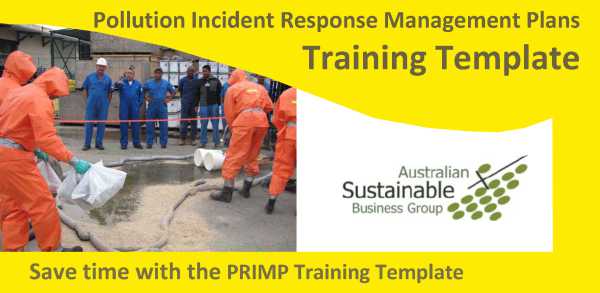 ASBG can assist you by preparing and delivering training requirements to support your PIRMP.  This will  assist NSW environment managers meet their PIRMP training obligations and save time.  At $350 this is a low cost way to comply with your PIRMP requirements. See more...